I think it is a safe bet that any stay at home mom has been to a "Mommy & Me" at least once. The time had come for me to see what it was all about. I found one at the local library that was for any baby from birth to one year, quite a large range but I thought, what the heck?

This morning though, I found myself to be extremely anxious as I was getting myself and "Princess C" ready. What should I wear? What would should she wear? What will these other moms think of me? Will they think I haven't lost the baby weight fast enough for having a 2 month old? Will they be more done up than me? Will I make a new best-mommy friend? So many questions!!

I was actually able to get a shower in this morning prior to leaving, put my hair up in a sock bun and put on my

"5 minute mommy face"

. It was chilly in the morning but was set to get warmer so I grabbed a breathable sweater threw on flip flops to balance it out.

Once I got there, I was the only one there! Oh the horror! I put so much time and effort into this excursion and no one was there? How rude! A few minutes later, other mom's came with their children who were a few months older than C and we sat in a circle on the floor and sang some songs with the library worker.

All in all this particular "Mommy & Me" was uneventful, no new mommy-best friend but it was great to get out of the house this morning so I'll call it a win!

Powered by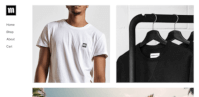 Create your own unique website with customizable templates.